Sweet Balance Teacher Spotlight - Rachel Lento
Today we share with you our Q & A with Rachel Lento, Instructor and Studio Manager here at Sweet Balance!
When did you first start practicing yoga?
I started practicing when I was in my late teens. There was a restorative class on Sunday evenings that a dear friend had recommended. I fell instantly in love. Within months I was there every chance I could, practicing restorative and flow. Yoga helped me escape the little box I had put myself in, emotionally, physically and spiritually. It showed me the infinite possibilities I had within me.
What made you decide to become a teacher?
I've been pretending to be a fitness instructor since I was a little girl. Full disclosure, I still do, whenever I need to get through the hard sets in a workout I pretend I'm leading a class. It didn't really click that's what I wanted to do professionally until a few days into my teacher training. I had decided to take the teacher training because I thought it would enhance my practice and heal the wounds of a recent break-up.
The first time I was thrown in front of our group and instructed to lead my fellow trainees through a Sun A, something clicked inside me. I felt alive and joyful and fulfilled in a way I hadn't ever experienced before that moment. I knew that's what I needed to do. I needed to give back the gift of yoga to others that had been given to me.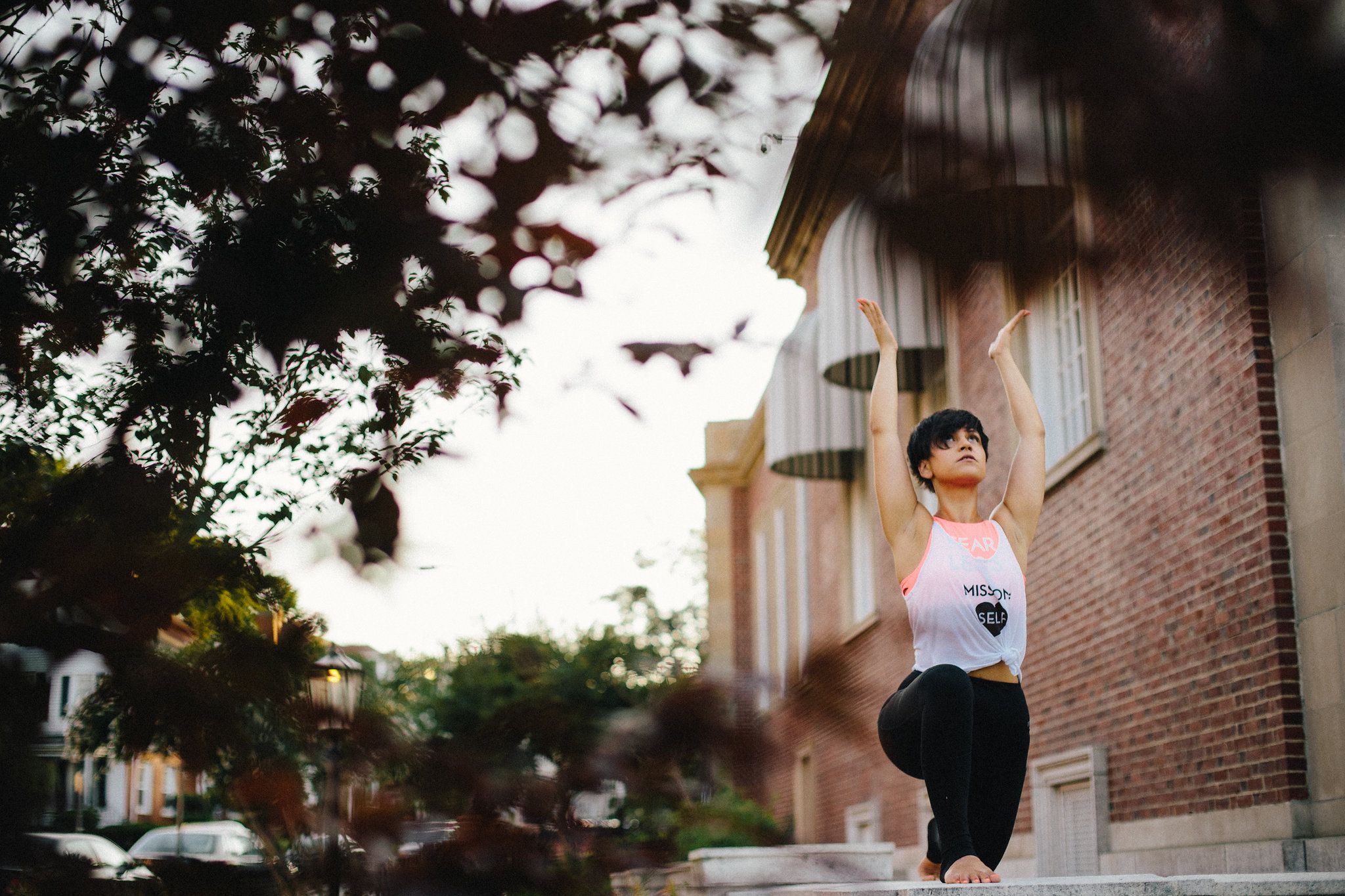 What other passions do you have besides teaching?
I really enjoy creative writing. I've been writing stories about princesses and orphans in journals since I was eleven. My made up stories have been my way of processing through tough life issues. It's something I do just for me. I also love to perform, whether it's acting, singing or making people laugh. Oh, and the beach, I love the beach.
What is your favorite asana and why?
My favorite asana is Eka Pada Rajakoptasana (Half Pigeon Pose). For me, this asana epitomizes my yoga practice. Each time I come to my mat, this posture is a dramatically different experience. There are times when I come into half pigeon and feel nothing but intensity, pain and the desire to run. There are times when I feel like I "get it," and effortlessly surrender into my hips, knowing a good work is being done. There are times when I come to the pose and feel nothing, no struggle or sensation at all. Half pigeon reminds me that my practice is a reflection of life. Some days it's pain, some days it's pleasure and some days are quiet. Like in half pigeon, I can choose to make the times of pain worse by running away, or following endless entanglements of self-harming narratives in my mind. Like in half pigeon, I can waste the times of happiness, by anticipating the next thing or focusing too much on past pain. Like in half pigeon, I can mis-categorize times of feeling nothing to mean something is wrong or that I'm lost. Or, like in half pigeon, I can choose to just be in the moment. Whether in pain, pleasure or nothing, I can choose to breathe and just be.
What are five fun fact about you?
I am the oldest of five girls. I was born with a blonde streak in my hair. Lord of the Rings, The Fellowship of the Ring is my favorite movie and I'm almost able to quote it all the way through. My favorite singer in the world is Leigh Nash from Sixpence None the Richer and I got to meet her at a Christmas concert. I am obsessed with British Comedy, obsessed, to the point where I watch entire seasons of British Panel shows when I'm sick in bed.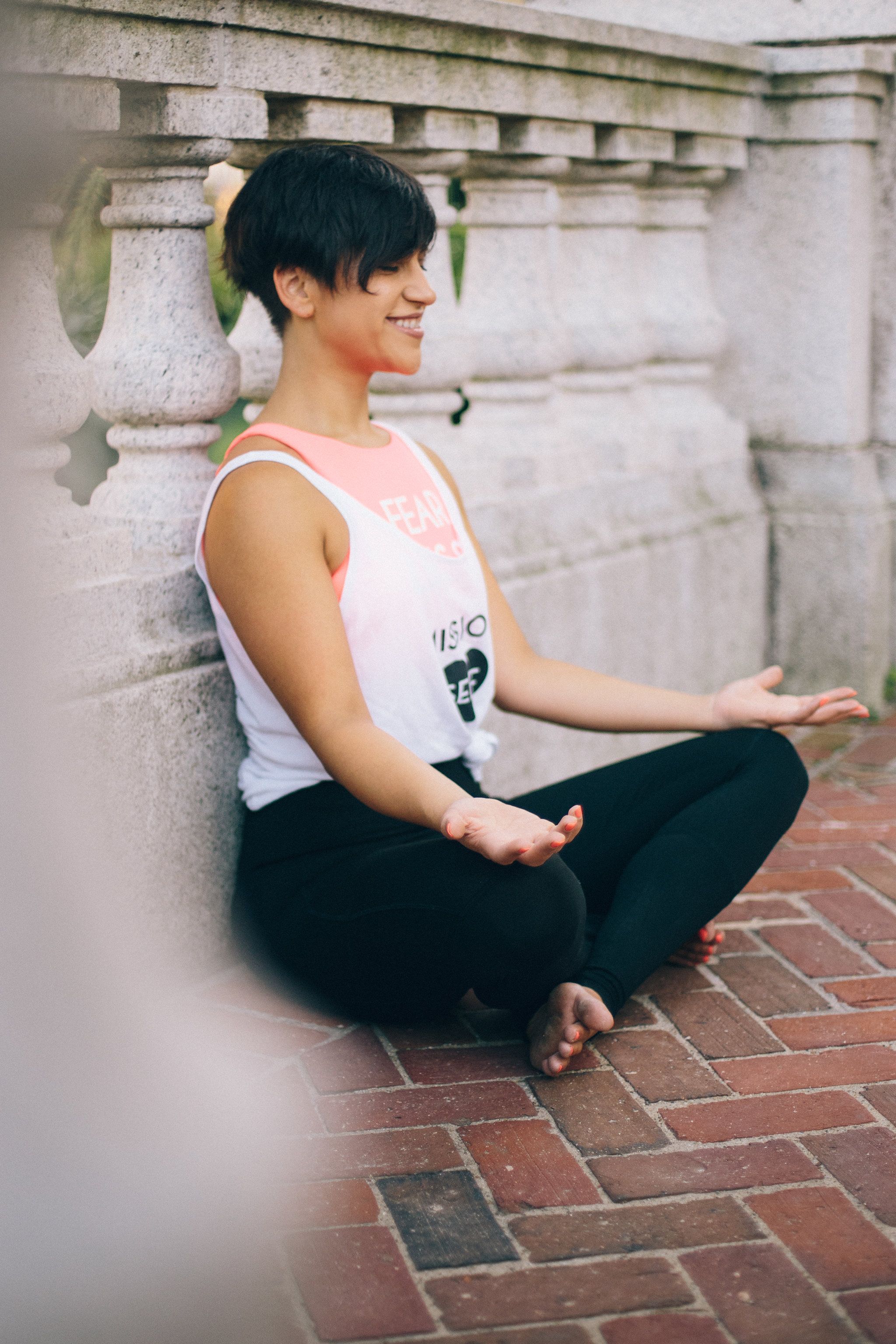 How do you practice (Satya)? Tell us a little bit of this practice in your own life.
My personal practice with truthfulness can be summarized in one of "The Four Agreements," by Don Miguel Ruiz. That agreement is, "Be Impeccable With Your Word." I know in my life, I've struggled with making promises I cannot keep, or saying something I did not mean just to make someone pleased with me. This sort of dishonor of my word ends up hurting myself and others, though my intention was to make another happy. The practice of being impeccable with your word (saying what you mean and doing your best to honor the word you have spoken), is a simple, yet very difficult way to turn your whole life around for the good. When you are impeccable with your word, you and the other are better for it.
If you could take a class from any historic or fictional character, who would it be and why?
The faceless man, Jaqen H'ghar from Game of Thrones. He's a tough teacher, to be sure, but if I could get Ayra results in my yoga practice I'd be set! Plus it cracks me up to imagine him saying, "A girl must exhale to down dog."
What classes do you teach at ASB?
I teach Gentle Yin Yoga, Balanced Body, Beginners Yoga Fundamentals and Balanced Body. I love them each and all.